Here's my (tweet form sorta) preview/analysis of the upcoming Heat-Celtics semis. Should be EPIC.
-
Hard to say who'll win. Let's start from
Miami
's standpoint:
It depends which Heat team appears. If its the Heat team that just coasts, chills, exclusively relies on pure talent, plays without a sense of urgency, shooters bricking their shots, LeBron choking, Wade whining to the refs/coasting with his defense, and Bosh playing like a homo intimidated by KG shows up, then this is easily the Celtics in 5 or 6. That is the sad truth, Heat fans. This is the worst case scenario that could happen, so let's hope and pray it doesn't reach to that point!
The Heat needs to be MENTALLY TOUGH in order to win this series.
If it's the Heat team that's fired up, motivated, hustles and grinds, attacks relentlessly, shooters providing a boost, and features a solid Chris Bosh showing up, then
Miami
in 6. Bosh is a big key for
Miami
. You just don't know which of the 2 Heat teams will show up in a game, as it's been really divided and inconsistent throughout the season. At least Boston are already proven that they can turn it on anytime which is always scary for the opposing squad, and it appears they already have with their solid play against New York (granted, the Knicks were not 100%, but still………) so consistency wouldn't be that much of a problem for them as opposed to Miami. With that said, the whole Heat fam is obviously hoping that the latter Heat version appears.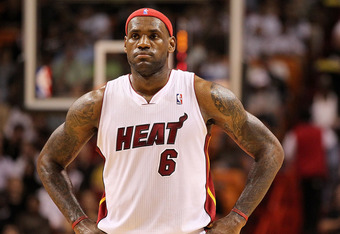 BOTTOMLINE: Miami at all costs, CAN NOT afford to have slow starts similar to their first round outing against Philly. ESPECIALLY AGAINST A CHAMPIONSHIP TESTED TEAM LIKE THE BOSTON CELTICS
. They encountered this multiple times back in the regular season too, where they just let the opponent absolutely start out on fire and just rely on the "Nah, we're just gonna be fine. We can come back easily" mentality. That's a huge NO-NO in this series. Do that and you get your ass whooped by
Boston
in 4 or 5 games.
And obviously, there's this "Who's the REAL CLOSER?!?" or "How do we close?!" problem that still continues to haunt the Heat. Only time will tell if they can finally solve this, and if by any chance do it against the Boston Celtics of all contenders……..then watch out, Thunder, Bulls, Lakers, whoever. That means that Miami might be finally ready for the biggest stage amongst all.
The Heat were seriously threatened by a young 76ers squad. They were athletic and made
Miami
run. The Celtics are old, so the Heat should run as much as they can, especially considering their halfcourt offense only consists of "LeIso", "D-Iso", "CB-Iso", or "Pick and roll/pop with CB". Miami needs to overwhelm Boston with their athleticism. Controlling the boards has also been a huge story for the Heat thus far in their first season together. That would be another aspect that they need to take advantage of if they expect to advance to the ECF. The Heat can't rely on jumpshots. They need to attack the rim and expose Boston's age. Miami also needs to avoid holding the ball for way too much as Boston's D will load up and force them to have a difficult time.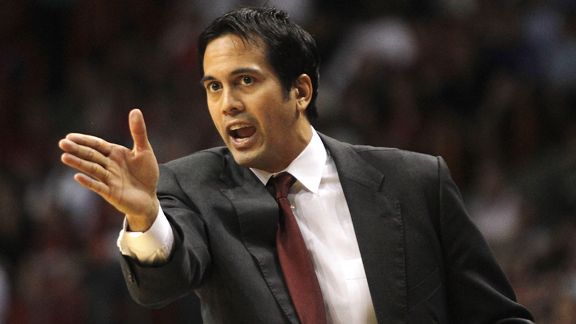 This series would also finally show if Spo has "it". Does he?
Going up against Doc Rivers is tough, but this would be a GREAT learning experience for Spo and would help him down the road shall
Miami
overcome the Celtics. Does he have what it takes to……(dare I say it) outcoach Doc, or at least make it a respectable bout when it comes to the coaching department? Time will tell. I do predict that if Spo fails to reach the Finals at least, his ass would be axed by Riley. Spo also needs to do a better job of motivating the players during pre-game speeches and the huddles. That's why many people wanted Riles to come back since Riley excels at that part while Spo doesn't, but im with Pat. Let's see what Spo can do first before judging to any conclusions.
Finally, my last point for the Miami Heat: HOMECOURT ADVANTAGE
. Since they finished with a better overall record than
Boston
even though the Celtics won the season match-up 3-1, the Heat still holds HCA. Can they actually use that though??
Fans in
South
Beach
are known to be horrible ever since the Shaq era ended. The crowd in the earlier eras were much much better. Before, during 2008-early 2010 times, it was a loyalty problem with the fanbase. Now, it's financial.
I've tweeted this numerous times and even though some of my fellow Heat fans bash me for this, this is the TRUTH.
Miami
's crowd sucks compared to the other teams. Im sorry if this hurts, but please take off your homer glasses for a second and do a reality check. I could see the financial excuse acceptable, though.
Wonder why fans aren't that great, and loud, even with LeBron, Bosh, Wade, and Joel Anthony in our team? Here's why: the rich bandwagon fake "Heat fans" get to sit in the lower bowl, which is what we see in telecasts, so people already judge the whole Miami crowd to whatever the lower bowl does/shows, which isn't right. Back to the rich fans: they're the only ones that could spend that huge money on them nice seats. Im been bashing the official Miami HEAT Twitter account too, about the prospect of decreasing their way too expensive prices for the benefit of all HEAT fans, but to no avail. The real HEAT fans are stuck either: A.) In the higher bowl and nosebleed seats or B.) In their couches watching the game since they can't afford them tix.
I don't have any problem with the rich fans as they deserve those seats since they earned them….well except for one: FAN UP YALL! Smh. Every Heat game, the people in the lower bowl comes WAY TOO LATE (been the case for the decade, but still…..) and guys, you need to actually CHEER FOR YOUR TEAM. Make some noise or something. These so called fans make the ballgame sound like a GOLF GAME. Just look at the other team's fans. Way too different. I'm jealous. I'm sorry for kinda turning this to a rant, but to summarize: Heat fans need to be behind the team and cheer out loud. That alone is a huge factor in energizing the team, and that would help the Heat defeat Boston. Homecourt is underrated. Ya feel me?
And if Udonis Haslem can finally come back to the court for this round, that would be huge. His championship experience and leadership would be a huge plus in the Heat lockerroom. His defense and the ability to knock down jumpshots would boost the Heat's chances to a higher level. Joel Anthony's basically doing what Haslem does minus the offense. Everytime Joel's in the game, Miami sacrifices and is forced to go 4 on 5 in every offensive possession. Now with Haslem on board, the Heat gets a way better Joel Anthony that can play with offense. That also means we won't get to see Juwan Howard ever step on a basketball court again. Get well soon, UD!
Now on to Boston's side………..
Miami may have the two best players in the series -- but Rondo, coaching, and experience are some huge advantages to name a few for Boston.
The C's have the savvy vets which are championship tested. The C's swept the Knicks back in the 1st round, but are they actually that good? You know, they struggled against New York before their big 3 all suffered injuries. Mike D'Antoni was forced to rely on the likes of Anthony Carter and Jared Jeffries, and you know what happens if you do that. Was the sweep a result of an absolute ass whooping, or was it just fool's gold? How KG does on Bosh is gonna be interesting too. The Celtics bench would also need to give out their hand and give the team a lift and outscore the Heat's bench. (does the Heat even have a bench though?? Lol jk.) Another big key that I see are the TWO O'Neals. Will Shaq even play in the series? If he does,
Miami
will have their hands full. Expect to see a lot of Erick Dampier and Jamaal Magloire as a counter from coach Spo. Will Jermaine O'Neal make his presence felt? Or will he pull a 2009-2010 Jermaine O'Neal and single handedly cost his team the series?
(Should I give you a history lesson? Ok here goes: JO was terrible last year from all fields, with his atrocious FG% leading the way that cost the Heat their 1st round series against…..the Celtics. Kinda ironic, huh.)
Well, maybe not quite the latter as JO won't get the shots he used too anymore since
Boston
signed him mainly to anchor their frontcourt defense alongside Kevin Garnett.
Miami
entrusted him as their 2
nd
/3
rd
option last year, which probably equates to you entrusting Delonte to take care of your mom while you're out of the house. But still……………with Kendrick Perkins no longer in their side, can the Celtics rely on him to help on KG in the D department against the big 3 of
Miami
? Can the two aging and aching O'Neals do it for
Boston
?? Will they be enough?? Do they still have IT?? Those are only some questions that I, and you, wanna know.
As much as I love coach Spo, I predict that Doc Rivers will absolutely murder Erik Spoelstra in this series…..we all know that, but like I said earlier – let's see if Spo can prove us wrong. (which I hope he does, but I do think Joel Anthony scoring 81 points is more likely to happen than that.)
Expect Rajon Rondo and Ray Allen to have a great series
. Can Wade survive those screens? Does he have the proper defensive discipline? With
Miami
's unfortunate luck against shooters all season long, I WOULD NOT BE SURPRISED AT ALL if Allen gets a 60 point game in this series. I'm not joking. He kills us everytime. Dwyane Wade has been lazy defending opposing players lately.
Boston
's backcourt will be the biggest concern for
Miami
. The Heat could only hope that Chalmers, Wade, Mike Miller, and such can actually contain or do at least, a decent job on the two of them.
Finally, we know for now that Boston also executes 1059039240940290x better in the endgame than the Heat.
They've mastered it as a specialty. No question one of the best veteran teams in the league today. Will age factor in against the young Heat squad though? C's have more chemistry and experience, so they have the edge there without a doubt. That's key. And you bet your ass of that this series will be a tight one. The playoffs in general this season has been AMAZING thus far with exciting finishes, and im expecting this series to feature games like such where it comes down to the last minute. We obviously know that the Heat kinda "suck" in crunchtime situations, so let's see if either the Celtics can take advantage or LeBron and/or Wade can prove their worth and shine in the big stage amongst all.
LeBron got eliminated by
Boston
last season. D-Wade also got eliminated by
Boston
last season. Can they finally seek revenge? Or will the Celtics continue their dominant winning ways??
This IS the time for Miami.
No knock on the Chicago Bulls, they're a nice team and have the best record for a reason, but this is actually the real ECF in my books. Too bad this came earlier in the semis. And if you want a prediction from me, well here goes: As much as it pains me to type the words I'm about to type, my mind says Boston in 6. I don't think the Miami Heat are quite ready for this yet. I'm not doubting Miami's basketball capabilities and talent. I'm doubting their mental toughness down the stretch for this series. I'm praying, hoping, and wishing they make me eat my words though, cause I would gladly eat crow if they can prove we're ready to beat Boston. I'm not quite as confident in comparison to the 06 playoffs since we had Riles back then. That's a huge difference. My heart still says Miami in 6 though and I'm hoping that's what happens. I still have faith, no doubt, in the Heat's chances and no question I want my team to win it all the way. But I just have that strange bad feeling about this series, you know, and I'm already prepared for the worst -- but I'm still hoping for the best. And if there are Heat fans reading this right now, it may actually be a good thing that I picked Boston in 6 because my track record indicates I suck at predictions, ha. So who knows.
This is put up or shut up for the Heat. This is the perfect time to prove their haters and doubters wrong even if it's only the semis. It's all about #WINNING. Nothing less. Win or go home. SHOULD BE A HELL OF A SERIES.
Game 1 starts Sunday at 3:30PM ET on ABC.