After all these years we've been waiting for, the time has arrived - yet again.
Will history repeat itself? Who among LeBron or Dirk will have their first ring? Is this Jason Kidd's final crack at a championship? Is this just the beginning of a Heat dynasty?
These are just some questions you and I would like to know, and the answers to all of our questions will be revealed two weeks from now.

Dallas has another shot for revenge. We all know what happened 5 years ago. This is the perfect time for Dirk to avenge his heartbreaking defeat, and it just happens to be Miami coming out as the East's strongest team yet again, just like 2006.
Meanwhile, Miami will get another chance to rub it in the Mavs' faces. Many people view the Heat's lone '06 title with an asterisk, stating various conspiracy theories surrounding it. Certainly, this is a golden chance to shut their haters up once again.
Dallas held off Portland 4-2 back in the opening round, which is surprisingly their most competitive series up to date. They shocked the world and swept the two-time defending champs in the semis, also exposing Oklahoma City's inexperience by ousting them in 5 games on their way to the NBA Finals.
Miami's quest to the NBA Finals wasn't easy either. They took the 76ers out in 5. Philadelphia did give Miami a scare for quite a bit. The Heat surprisingly only needed 5 games to beat the defending east champs in the semis, outperforming Boston down the stretch with solid display of execution. Finally, just like the first two rounds, they eliminated the NBA's best Bulls in 5 games in the ECF.
We're talking about two of the NBA's best road teams right here. Both teams currently hold 12-3 playoff records. This is an exciting match-up just as you could imagine.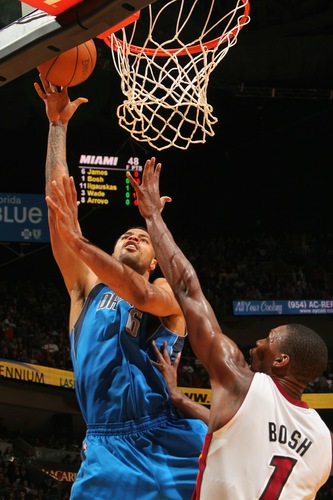 Miami needs to have a collective effort of boxing out and securing rebounds. Back in the season, Tyson Chandler once had 17 rebounds against the Heat. That should never happen again.
Obviously, Spoelstra and co. will have their hands full against Dirk. With the way he's been beasting lately, you gotta wonder if there's really a way to contain him. Udonis Haslem once earned the moniker "Dirk stopper" 5 years ago. Things have changed drastically since then, so we'll see how exactly that goes. Spoelstra could also use Bosh, Anthony, and at times - LeBron, and throw them at Dirk. You know he'll be motivated to bounce back from his 2006 loss as his legacy is once again on the line here. You also know about 90% of America has the German's back for this series. Kinda ironic huh? There's really no way to stop Dirk. You just have to limit him and accept the fact that he will get his.
Speaking of legacies, can LeBron finally win his first ring? It's a no brainer that his legacy will take another hit if he fails to win it this season. On the other hand, this could just well be the start of a historic run for King James. He has been surprisingly a great closer as of late for Miami, and he needs to keep doing damage. He's only four wins away from the Larry O'Brien trophy, and I'm sure he realizes that this is huge. I have faith that he'll put the icing on the cake for his haters in this series and will shut them up.
The Heat's role players need to show up bigtime. It's no secret that the Mavs boast more depth and has a better rounded team. Dallas used some zone defense back in the season that caused Miami to struggle in stretches. This is where the likes of Mike Bibby, Mike Miller, James Jones, and Mario Chalmers need to step up and provide a lift to the big three. You really don't necessarily need to beat the zone with exclusive 3's, you can bust it. Having Chris Bosh really helps as he's also great in the high post area.
One aspect I'm very afraid is Dallas' 3-point shooting. They can catch fire anytime and kill you completely. (See the Lakers series.) They're very streaky and will obviously be tough to guard once they get into their rhythm. Miami needs to have the proper defensive discipline in defending the three-point line at all costs.
It's gonna be a one heck of battle between great offense vs. great defense and star power vs. depth. We all know that famous "Defense wins championships." saying. Can Miami live up to those words and prove it?
You see, one thing with the Heat is not only do they have great defense, but anytime you have LeBron James, Dwyane Wade, and Chris Bosh in your team, you know you have some heck of an offense too. As for the Mavs, I feel that defensively, they're average and ain't that bad. So to summarize it right here, we're seeing good offense with great defense vs. great offense with average defense.
The Heat can not afford to have slow starts. I know they've had it and eventually survived despite all of them during the first three rounds, but I feel Dallas is one different monster even though they have the label of being chokers. I would prefer if Miami can keep up the intensity for all 48 minutes. The Mavs are way too gifted offensively for that to happen.
Dwyane Wade needs to find his groove ASAP and show Dallas once again who's boss. Generally, he really wasn't that much into it in the Bulls series but to his credit - he showed up down the stretch in close games. This time, he needs to torch whoever Rick Carlisle sends to guard him and give the Mavs another nightmare to add to 2006. The Pre-Finals rest should definitely help his cause. Bottomline: Miami can't win this series if Wade struggles mightily bad.
As good as JJ Barea, Peja Stojakovic and Jason Terry can be offensively for the Mavericks, the Heat should find plenty of ways to expose them and torch them. We all know those three guys aren't exactly that much into defense. Miami needs to make them pay and go at them any chance they can get. It's been always a grind-it-out mentality for Miami. Games like these favors their preference more, so that could also come in handy as well.
I wouldn't look in too much to the season series. Sure, the Mavs did win it 2-0, but we all know that same thing happened in 2006. Boston also went 3-1 against Miami. Chicago went 3-0. Look how all of that turned out. It's really interesting how the "Dallas hasn't faced an elite defense like Miami just like Miami not facing an elite offense like Dallas" debate works. It's been a long time since these two teams faced off, so expect some unfamiliarity at times.
Can Miami's homecourt advantage pay off? And speaking of homecourt, want to know the two main guys behind Miami's homecourt over Dallas right now? Eddie House and Jamaal Magloire. In the NBA's final regular season gameday, the Heat were playing without their main guys. Eddie House went on a scoring spree and Jamaal Magloire dominated in the rebounding department as Miami beat Toronto, eventually securing homecourt over Dallas. Heat fans own a bad reputation around the league, but to my surprise, they've actually impressed me so far throughout the post-season.
Like we said earlier, we're talking about the NBA's best road teams right here, so the Heat needs to protect their house. Even if Miami fails to snatch one on the road in Dallas, they could clinch the championship by winning all 4 home games in this series. Easier said than done. But since they're undefeated in South Beach so far, you never know. My ideal way would be the Heat winning the first two games at home, snatching one of three in Dallas, finishing it off in Miami. Remember, it's a 2-3-2 format for the Finals. It's really arguable whether this actually helps the road or home team. In my view, this would benefit the Heat more.
Also, you could bet that AmericanAirlines is happy as hell right now. Dallas plays in American Airlines Center, while Miami plays in American Airlines Arena.
To sum all things up, I picked Boston in 6, and Chicago in 6 back in previous rounds. Add that to the fact that Dallas is one helluva team, so I'm picking Dallas in 6. Again, my true Heat fam know what me picking Mavs in 6 really means. Ha. It would really be a treat if the Heat can prove me wrong and make me eat these
words though.
All games will be exclusively aired by ABC.